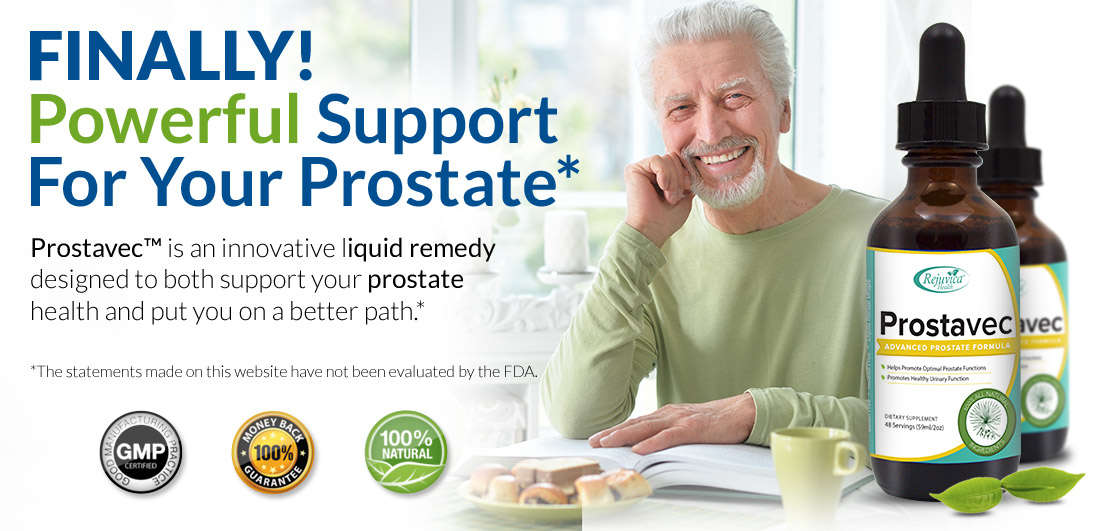 SAVE OVER 20% WHEN YOU SUBSCRIBE

Never run out of Prostavec!
Convenient monthly autoshipment program
to support a healthy prostate.

Save $2.46 per month + FREE Shipping
ONLY $31.54/month
When's the Last Time You Slept Through the Night Uninterrupted?
Frequent Urination can make life miserable, and there's no shame in looking for help.*
Your prostate health is important. Prostavec is a powerful and fast-acting prostate support supplement that helps encourage an already healthy urinary flow, and best of all, it's not the same old capsule formula you've seen a thousand times.*
Real Prostate-Health Support
Prostavec is equipped with a complex formula containing well-researched and tested ingredients like Saw Palmetto and Pygeum Bark, packed with Beta Sitosterol to help put you on the path towards a healthy prostate while simultaneously encouraging healthy DHT levels. Because healthy DHT levels are important.*

Ingredients:
Pygeum bark, turmeric root, saw palmetto berry, stinging nettle leaf, hydrangea root, damiana leaf, couchgrass rhizome, olive leaf, kelp, corn silk, prickly ash bark
Our proprietary, industry-leading, multistage liquid tincture process, macerates, brews, and extracts herbs according to their unique characteristics to ensure potency.
60 Day Satisfaction Guarantee
or Your Money Back!
We're so confident you'll find what you're looking for with Prostavec that we offer a 60-day money-back guarantee. If you're unsatisfied with Prostavec for whatever reason, simply send the bottle back for a full refund.

Why should you trust Rejuvica with your hard-earned money?
Instead of cramming all these ingredients in an ointment that was thrown together somewhere in China, Prostavec is crafted under the guidance of a trained herbalist right here in the USA. Plus, with our premium value-bundles, you can add an extra bottle to your order to save money AND give yourself the best chance of achieving long-term success.
Get The Relief You Deserve With Prostavec
We here at Rejuvica Health™ are deeply committed to your success, if you ever have any questions regarding your purchase we encourage you to email us at:

Help@Rejuvica.com or call us at (949) 627-4822

Make sure to include "Prostavec" in your subject and we will make sure to provide our best recommendation for success.

When all is said and done, what we care about is the success of you and the thousands of our other clients.
*The statements and claims made about this product have not been evaluated by the Food and Drug Administration (U.S.). This product is not intended to diagnose, treat, cure, or prevent disease. Results may vary. If you are pregnant, nursing, taking other medications, have a serious medical condition, or have a history of heart conditions we suggest consulting with a physician before using any supplements. The information contained in this Website is provided for general informational purposes only. It is not intended as and should not be relied upon as medical advice. The information may not apply to you and before you use any of the information provided in the site, you should contact a qualified medical, dietary, fitness or other appropriate professional. If you utilize any information provided in this site, you do so at your own risk and you specifically waive any right to make any claim against the author and publisher of this Website and materials as the result of the use of such information.