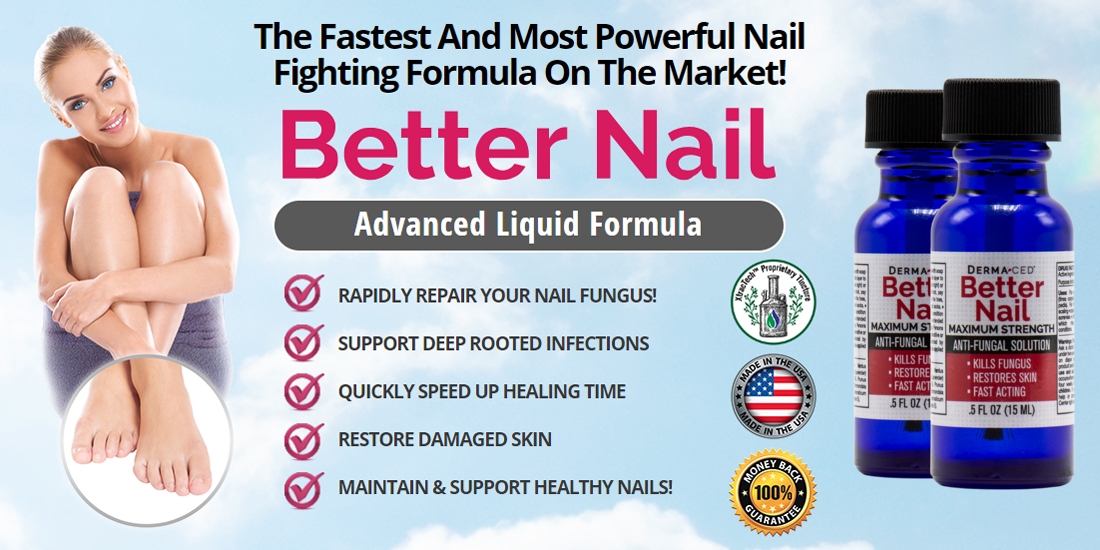 SAVE OVER 20% WHEN YOU SUBSCRIBE

Never run out of Better Nail!
Convenient monthly autoshipment program
that keeps nasty nails away.

Save $2.46 per month + FREE Shipping
ONLY $31.54/month
A Revolutionary Product For Your Nails
Over 30 Million people worldwide suffer from debilitating Onychomycosis or nail fungus. The dermatophytes, or fungus, traps itself deep within the nail bed making it extremely difficult to fight and ward off. This unsightly disease can cause shame, and can halt a person from experiencing social activities due to fear of embarrassment. Nail fungus can be developed by a multitude of ways, but in the end, all that matters is that it is eradicated in a quick and painless manner.

Better Nail combines a perfect fusion of science and nature to bring you the most powerful nail fungus fighting formula on the market!
What Can Better Nail Do For You?
Undecylenic Acid is the only FDA approved ingredient proven to fight the root cause of nail fungus, and destroy this obnoxious disease once and for all. We went ahead and used the highest possible 25% concentration of this proven ingredient to eliminate your nail fungus fast. Most companies use a low dose of 10% and are even more expensive! That's over twice the concentration of the leading competitor. We have also included natures most powerful herbal essential oils on the market. We scoured through volumes of scientific research data, and found that essential oils are key to ensuring your nails are healthy and free of debilitating fungus.

What Are The Benefits Of Better Nail?
Fight Bacterial & Viral Infections:
We scoured through volumes of scientific research data, and found that Tea Tree Oil is a promising remedy for bacterial, fungal and viral infections.
Soothe & Strengthen Damaged Nails:
Lavender Essential Oil is yet another effective anti-inflammatory shown to be a powerful anti-microbial, and exhibit nail soothing properties.
Reduce Scars & Smooth Skin:
Sweet Almond Oil is one of natures most rejuvenating oils, shown to reduce scarring and displays incredible nail and skin smoothing characteristics.
Repair Skin & Revitalize Nail Bed:
Simmondsia chinesis also known as Jojoba Oil, is a precious oil native to Mexico shown to carefully repair the skins delicate skin barrier, and contains powerful fungicidal properties.
Active Ingredient: Undecylenic Acid 25%
Purpose: Anti-Fungal

Other Ingredients: Cymbopogon Nardus (Citronella) Oil, Lavandula Angustifolia (Lavender) Oil, Melaleuca Alternifolia (Tea Tree) Oil, Prunus Amygdalus Dulcis (Sweet Almond) Oil, Syzyguim Aromaticum (Clove bud) Oil, Tocopheryl Acetate (Vitamin E).
Why should you trust Rejuvica with your hard-earned money?
Instead of cramming all these ingredients in an ointment that was thrown together somewhere in China, Better Nail is crafted under the guidance of a trained herbalist right here in the USA. Plus, with our premium value-bundles, you can add an extra bottle to your order to save money AND give yourself the best chance of achieving long-term success.
60 Day Satisfaction Guarantee
or Your Money Back!
We're so confident you'll find what you're looking for with Better Nail that we offer a 60-day money-back guarantee. If you're unsatisfied with Better Nail for whatever reason, simply send the bottle back for a full refund.

Get The Life You Deserve With Better Nail
We here at Rejuvica Health™ are deeply committed to your success, if you ever have any questions regarding your purchase we encourage you to email us at:

Help@Rejuvica.com or call us at (949) 627-4822

Make sure to include "Better Nail" in your subject and we will make sure to provide our best recommendation for success.

When all is said and done, what we care about is the success of you and the thousands of our other clients.
*The statements and claims made about this product have not been evaluated by the Food and Drug Administration (U.S.). This product is not intended to diagnose, treat, cure, or prevent disease. Results may vary. If you are pregnant, nursing, taking other medications, have a serious medical condition, or have a history of heart conditions we suggest consulting with a physician before using any supplements. The information contained in this Website is provided for general informational purposes only. It is not intended as and should not be relied upon as medical advice. The information may not apply to you and before you use any of the information provided in the site, you should contact a qualified medical, dietary, fitness or other appropriate professional. If you utilize any information provided in this site, you do so at your own risk and you specifically waive any right to make any claim against the author and publisher of this Website and materials as the result of the use of such information.