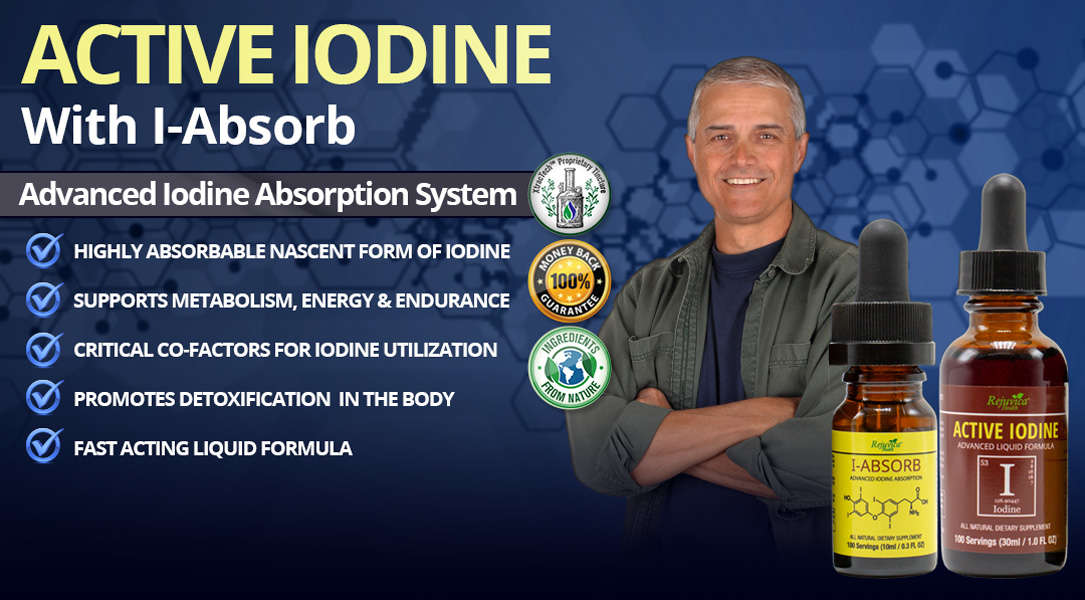 SAVE WHEN YOU SUBSCRIBE
Never run out of Active Iodine + I-Absorb!
Convenient monthly autoshipment program to keep iodine deficiency at bay.
Save $2.46 per month + FREE Shipping

ONLY $31.54/month
Boost Your Sluggish Metabolism
Feel full of energy again! Iodine is an essential mineral that your thyroid uses to make sure your metabolism is firing on all cylinders. A faster metabolism can help you burn more calories and feel better.*
Improve Focus & Energy
Improve your focus and energy levels with a healthy thyroid and metabolism. Active Iodine is high-purity nascent iodine filtered through an intensive cold-extraction process so you get exactly what you pay for. No fillers, capsules, clumsy tablets.*

See one of our many inspiring stories of how

Active Iodine

has completely changed their lives!
A FUSION OF SCIENCE & NATURE
MANGANESE
Manganese is a trace mineral that is necessary for an enzymatic process known as superoxide dismutase (SOD) which supports scavenging of free radicals.

SELENIUM
Selenium is a trace mineral that plays critical roles in reproduction, thyroid hormone metabolism, DNA synthesis, and protection from oxidative damage and infection.

THIAMINE (B1)
Thiamine is a water soluble vitamin that is crucial for ATP production, which every single cell in the human body uses for energy.

RIBOFLAVIN (B2)
Riboflavin is a water soluble vitamin that plays a role in energy production, as well as cellular growth and function.

Why should you trust Rejuvica with your hard-earned money?
Instead of cramming all these ingredients in an ointment that was thrown together somewhere in China, Active Iodine + I-Absorb is crafted under the guidance of a trained herbalist right here in the USA. Plus, with our premium value-bundles, you can add an extra bottle to your order to save money AND give yourself the best chance of achieving long-term success.
60 Day Satisfaction Guarantee or Your Money Back!
We're so confident you'll find what you're looking for with Active Iodine + I-Absorb that we offer a 60-day money-back guarantee. If you're unsatisfied with our product for whatever reason, simply send the bottle back for a full refund.

Get The Support You Deserve With Active Iodine
We here at Rejuvica Health™ are deeply committed to your success, if you ever have any questions regarding your purchase we encourage you to email us at:

Help@Rejuvica.com or call us at (949) 627-4822

Make sure to include "Iodine" in your subject and we will make sure to provide our best recommendation for success.

When all is said and done, what we care about is the success of you and the thousands of our other clients.
*The statements and claims made about this product have not been evaluated by the Food and Drug Administration (U.S.). This product is not intended to diagnose, treat, cure, or prevent disease. Results may vary. If you are pregnant, nursing, taking other medications, have a serious medical condition, or have a history of heart conditions we suggest consulting with a physician before using any supplements. The information contained in this Website is provided for general informational purposes only. It is not intended as and should not be relied upon as medical advice. The information may not apply to you and before you use any of the information provided in the site, you should contact a qualified medical, dietary, fitness or other appropriate professional. If you utilize any information provided in this site, you do so at your own risk and you specifically waive any right to make any claim against the author and publisher of this Website and materials as the result of the use of such information.